Hi guys! Yes, the Glee Fashion Inspiration is still here! The next fashion inspiration is... Brittany S. Pierce!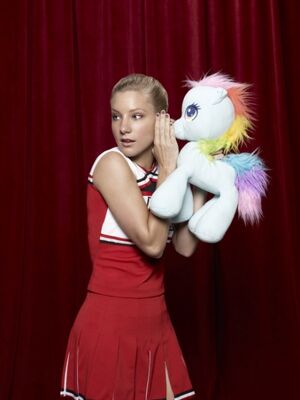 Brittany's fashion style is really fun just like her personality. She's not afraid of trying new styles. Remember that one episode where she started a new trend? Leg warmers as arm warmers? She's really not afraid of anything because she can work out any pieces! Lucky girl!
She wears a lot of layers. Lots of prints as well.
She's mostly wearing rompers or dresses with knee high socks!
Lots of bright colours!
She wears a variety of hats!
Loose tops of course!
Outfit #1
So for this outfit. I wore a loose top and added the bright blue jacket for a pop of colour. It's starting to get super cold in Vancouver so I paired it with jeggings and some low heel combat boots. Then, I wore a beanie to imitate Brittany's signature hats.
Cream Loose Top - Forever21
Blue Cropped Jacket - Forever21
Brown Belt - H&M
Black Jeggings - Urban Planet
Combat Boots - sister's closet
White Beanie - Claire's
Outfit # 2
As for outfit # 2, I incorporated the layering style of Brittany, pattern over pattern and knee high socks! Don't be afraid to try the new trends like Brittany! Just find the right pieces and put them together! It'll be worth it! I wore the same beanie hat as well but I had to crop my face off. Hehe!
Blue Flag Loose Top - Forever21
Checkered Vest - sister's closet
Military Green Jacket - Forever21
Black Tights - Forever21
Grey Knee High Socks - Claire's
Combat Boots - sister's closet
White Beanie - Claire's
She also loves to wear suspenders! Try wearing bright colored shorts, a loose top or cropped top, then wear suspenders. You can wear knee high socks with boots or heels even! It's really fun to re-make her style because it's so much fun! Try finding your inner Brittany!